The Healthy girl's guide to : Gorgeous Winter Hair
Posted by Hindrishi Ayurveda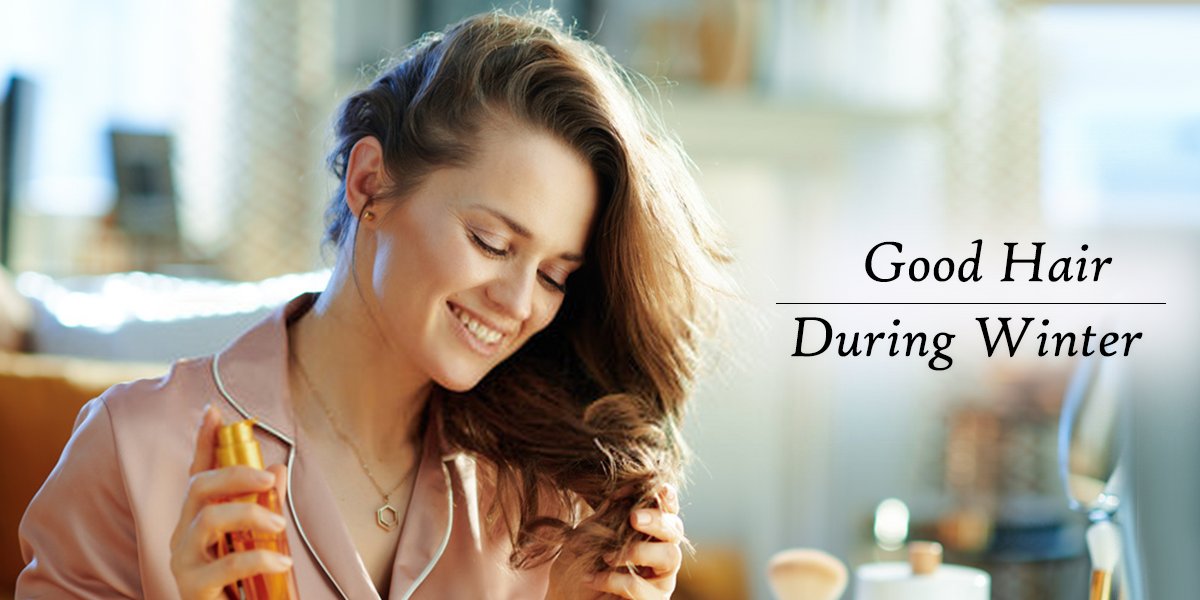 There is nothing like sitting by the fire with a hot cup of coffee and a cozy woolen blanket. However, while you could be having the best time of your life, your hair isn't.  You can keep your beautiful hair from becoming weak and prone to breakage this winter with the appropriate hair care recommendations.
If you live somewhere where cold weather happens, you are probably aware of the damage it causes to your hair. Your scalp may get dry and flaky, and your hair may become rough and brittle, may experience dandruff issues apart from the dullness and lusterless as a result of this chilly weather, apart from giving awful colds and flu every now and then.
But don't let the chill take a toll on you and if it's bringing your hair care game down, we've got your back. Scroll down to some amazing ad useful haircare tips to beat this winter and keep them nice and healthy before the spring arrives. Try them to believe them.
Some useful Haircare tips for you to follow-
Regular Oiling
Oiling your hair may seem like a hassle in the winter, but it is absolutely necessary. Massaging your scalp and hair with natural oils on a regular basis, say once or twice a week, in this chilly weather can nourish your hair roots and strengthen your hair follicles by increasing the blood circulation in the roots. Coconut oil, almond oil, argan, sesame, or olive can be used to naturally lock in the moisture and nourish them. Hot oil massages can be a hair saver.!
Don't leave your hair alone after washing
Certainly, drying your hair in the cold appears to be a monumental chore. But, guess what? Stepping out or sleeping with wet hair might make your life much more difficult because it can cause severe tangling and breaking. Cold air stretches hair shafts, making them more prone to breakage and perhaps fading color. Before going out in the sun, make sure your hair is completely dry. Allow more time for your hair to dry, or better yet, adjust your winter hair care routine.
Avoid hot showers
In this chilly weather, a hot shower is always appealing. Hot water, on the other hand, can strip your hair of its natural oils and moisture, leaving it dry. It may also cause flakiness and dryness on your scalp. To assist seal the hair cuticles, wash your hair with lukewarm water and then blast it with cold water at the ends.
Switch to Microfiber towels
When drying your hair, avoid using cotton towels. Microfiber towels are an excellent alternative. They are easy on your hair, have a high water-holding capacity, and aid in reducing friction and drying time.
Say no excess heat styling tools
Allow your hair to air dry as much as possible to embrace its natural texture. Limit your exposure to styling tools and if you must style, use a heat protectant ALWAYS.
Wear a hat
When you expose your hair to cold, dry winds and snow, it becomes stressed. Wear a scarf or hat to keep it warm. To avoid friction from the cotton and woolen fabrics, you might line your hat with silk or satin fabric. To fight static and tame flyaways, you can also apply a dry oil spray. 
Avoid frequent hair washes.
It's time to switch things up if you wash your hair every day. Shampooing your hair frequently removes its natural oils, creating more dryness and irritation. Try washing your hair once or maximum twice a week using a sulfate-free and mild shampoo to maintain the natural moisture.
Healthy eating = Healthy hair
Water is one of the most important elements in your hair. It is critical to stay hydrated during the winter months in order to replace lost water content. Also, eat a well-balanced diet to avoid deficiency in key vitamins and nutrients that strengthen your hair.
Winter may be rough on your hair, so taking extra precautions might help you maintain optimal hair health. These tips are simple to follow and will surely help you flaunt soft, silky, and healthy hair.
Posted in

balanced diet, chilly weather, dandruff, frizziness, hair care, hair care issues, healthy food, healthy girls guide to gorgeous hair, healthy hair, Healthy winter haircare, hydration, microfibre towel, nutrients, oiling, vitamins, water, winter, winter season
40 comments