Chyawanprash- An Elixir of Health
Posted by Hindrishi Ayurveda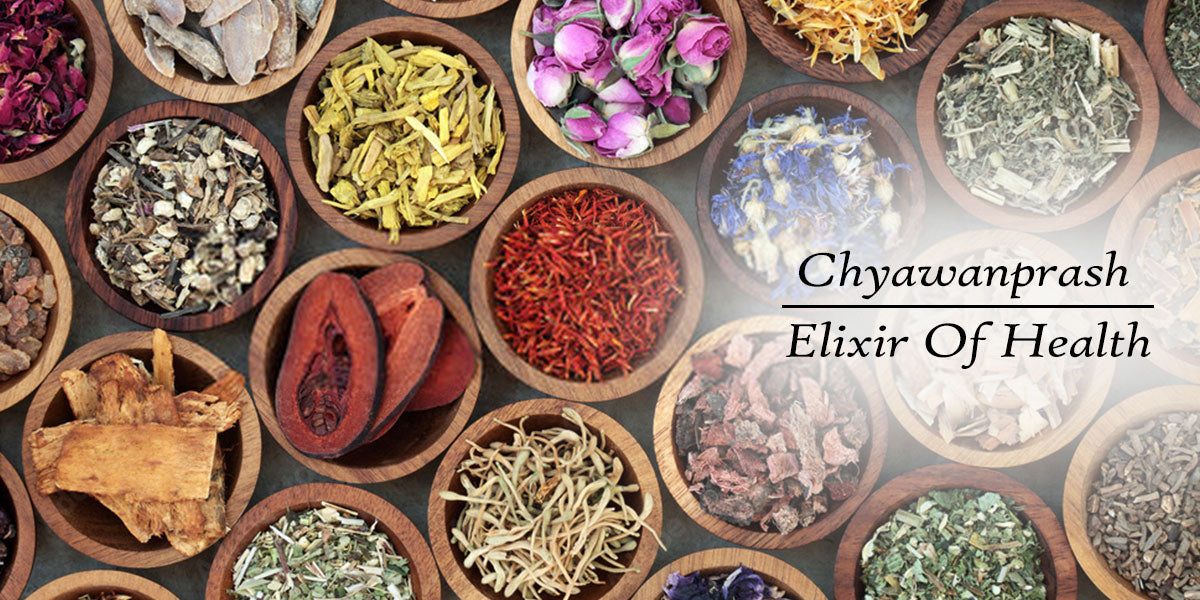 If you've been sick a lot, you've probably been told that you have a low immune system. If you've been having fever, cold, and infections on a frequent basis, it's a sign that your body isn't capable of fighting illness on its own.
Healthy persons may suffer a few symptoms yet remain unaffected. People who have a weaker immune system become unwell and can suffer for a long time. When this occurs regularly, it can have a significant impact on your life. Medicines can't do so because they simply treat the symptoms.
Are you looking for a natural way to boost your immunity? In this circumstance, you'll need a safe and effective technique to improve your immunity. This is where Ayurveda may help you learn how to boost your immunity.
Ayurveda's approach on immunity building 
Ayurveda adopts a holistic view to improving immunity and, as a result, the Ojas in the body and has a more holistic and long-term approach to immunity. A variety of special meals, herbs, and tonics can help boost immunity, for instance, Chyawanprash is a common and oldest Ayurvedic supplement that can aid. 
What is Chyawanprash?
It is a jelly prepared from the miracle herb Amla, also known as Amalaki, high in Vitamin C and has numerous health advantages. It is an herbal tonic that contains nearly 50 different constituents. This strong immunity-boosting supplement is prepared according to the Ashtanga Hridayam recipe (an ancient recipe book of Ayurveda)
Benefits of Chyawanprash-
Boosts Immunity
The antioxidants and vitamin C included in chyawanprash make it an effective immune system booster.it also aids in fighting against microorganisms and protects the body from a variety of ailments. It also has antiviral, antifungal, and antibacterial qualities, which aid in the prevention of common colds, fevers, sore throats, and other respiratory problems.
Promotes Digestion
It is a well-known digestive aid. Its anti-flatulent functions help to prevent gas from forming in the alimentary canal. As a result, flatulence, bloating, and stomach distension are reduced. It can also assist with constipation and other digestive problems.
Delays aging process
The regenerating properties of chyawanprash are well-known. It aids in tissue repair and regeneration, as well as protecting the body from cellular harm due to its antioxidant characteristics.
Skin augmentation
Chyawanprash is rich in antioxidants, making it a god send for achieving beautiful, radiant skin. The anti-inflammatory herbs in chyawanprash also aid in the reduction of allergic conditions such as pimples, zits, and, acne, as well as the prevention of other skin infections.
Helps in cardiac functioning
The herbs present in chyawanprash have extensive heart-health properties. It is also beneficial for people with arrhythmias and palpitations, as it calms the mind and relaxes the cardiac system. It also strengthens cardiac muscles, decreases blood cholesterol levels, and prevents liquid build-up. 
Aids in weight loss
Flavonoids in chyawanprash help the body shed excess weight more quickly. It helps with weight loss because it is high in fiber and important nutrients, which satisfies hunger and avoids overeating.
It's your turn to improve your immunity
Everyone in the family, from little toddlers to the elderly can enjoy chyawanprash. It's a year-round magical tonic, but it's especially good in the winter. Chyawanprash is a potent herbal medicine that lives up to its fame, and its ingredients are a one-stop-shop for particularly every health problem.
Hindrishi Ayurveda offers this well-known ayurvedic product "HindPrash" which is available on their website https://hindrishi.com/products/hindprash-ayurvedic-immunity-booster
 You can place your order online and have the item delivered to your home. HindPrash is a great way to start increasing your immunity as it will aid in the prevention of seasonal illnesses.
Purchase HindPrash 
36 comments